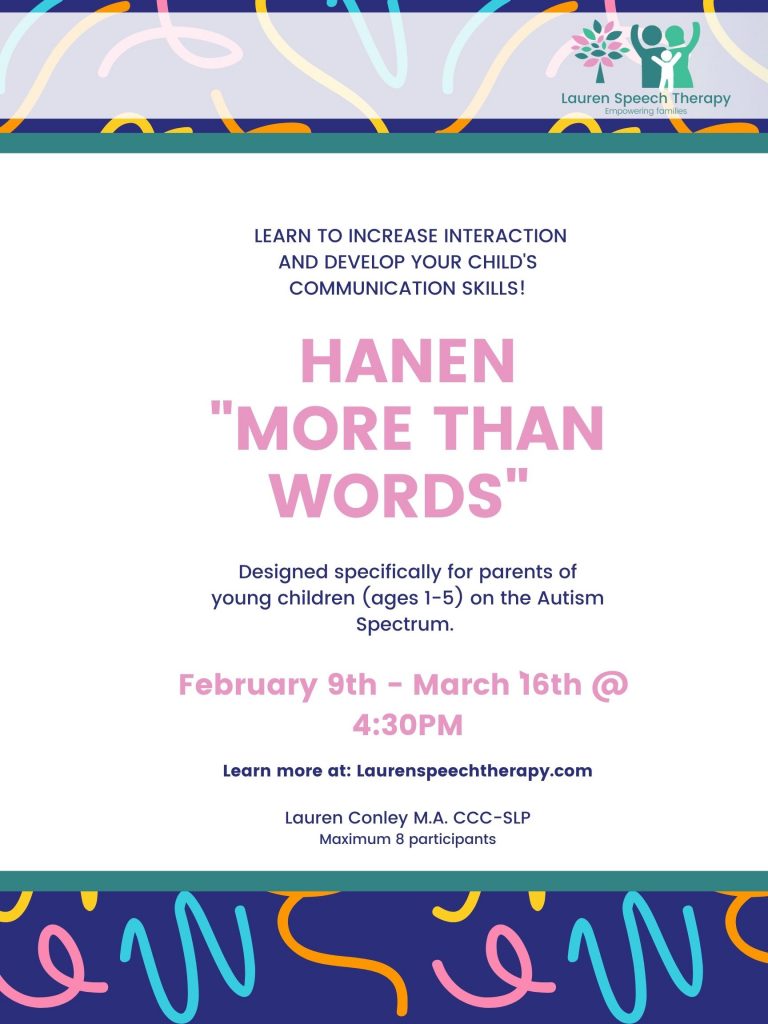 *** First time Special!! Join for $175 for the entire course!
You get 50% off of the typical price of $350! I am offering this discount since it will be my first time teaching the class virtually 🙂
You will get 2 individual sessions and 5 classes for only $25/session! Classes will be 1.5 hours and the two individual sessions will be 45 minutes. This class will not be offered at this rate again!

As a parent, you know how challenging it can be for your child with Autism Spectrum Disorder or other social communication difficulties to interact meaningfully with others and connect with the world around him.
The More Than Words Program was designed specifically for parents of children ages 5 and under on the autism spectrum and with other social communication difficulties. Addressing the unique needs of these children, the program provides parents with the tools, strategies and support they need to help their children reach their full communication potential.
More Than Words via tele practice does this by empowering you to help your child reach the following three goals:
Improved social communication and back-and-forth interactions
Improved play skills
Improved imitation skills
Here are some of the valuable things you'll learn when you attend the More Than Words Program:
What motivates your child to communicate
How to use your knowledge about your child to set appropriate and realistic goals
How to make interactions with your child last longer
Tips for using pictures and print to help your child's understanding
Strategies for how to talk so that your child understands you
Strategies for developing your child's play skills
Ways to help your child make friends

Program Components
The More Than Words parent program includes:
A Hanen Certified speech-language pathologist leading the program
5 training sessions in small, personalized groups
A pre-program consultation for you and your child with your speech-language pathologist
One individual virtual visit for you and your child in which you are videotaped while practicing with your child. Then you and your speech-language pathologist watch the videotaped interaction to "see" what's helping and what you can modify to help even more
Learn more about the More Than Words guidebook.

Benefits of Taking the More Than Words® Program
Practical strategies you can use in everyday situations
The More Than Words Program focuses on your natural, day-to-day life with your child. You'll discover how to take everyday activities like meal time, story time and bath time and use them to help your child improve his communication and social skills. And you'll have fun together while you're doing it!
The More Than Words approach is easy to understand and easy to put into practice. With every strategy you learn, you'll be given ample opportunity to practice and discuss it so that you won't forget it.
Here's an example of a strategy you'll learn in the program:"R.O.C.K.™ in your Routine"

Repeat what you say and do
Offer opportunities for your child to take a turn
Cue your child to take his turn; and
Keep it fun! Keep it going!
The R.O.C.K.™ strategy can be used during any activity you do with your child to foster longer, more meaningful interactions and improved social skills.

An evidence-based and reputable program that's worth your time
Like all of Hanen's programs, More Than Words was developed by expert speech-language pathologists and is grounded in extensive research. The program itself is delivered by Hanen Certified speech-language pathologists who have completed specialized training from The Hanen Centre.
More Than Words requires a significant time commitment from parents in order to ensure the best possible learning experience. Once you've completed the program, however, the strategies you've learned will become such a natural part of the way you interact with your child that you won't even notice you're using them. The commitment you put in now will pay off during every interaction you have with your child.
The chance to connect with other parents
One of the greatest benefits of the More Than Words Program is the opportunity it provides to connect with other parents. When you feel like no one understands what you're going through, you can often feel isolated and alone in your struggle. At the More Than Words Program, you'll meet other parents in the same situations. You will have opportunities to share experiences with other parents, gain insight from their experiences, and make new friends who really understand what you're feeling.

What parents say about the More Than Words Program…
"My son has made incredible strides due to your program. He has surprised a lot of people. What I really love about the program is that we are taught to work with our children. After all, an SLP may see them once a week, but we are with them around the clock, so if we can help with their speech it is actually a more beneficial situation for the children. Your course is invaluable and a must-do for parents, relatives and friends. I am forever grateful"
– Debra, mother of 4-year-old Anthony
LEARN MORE AT: http://www.hanen.org/Special-Pages/MTW-telepractice-program-page.aspx